Maintaining Gum Health with Periodontal Disease Treatment in Stuart, FL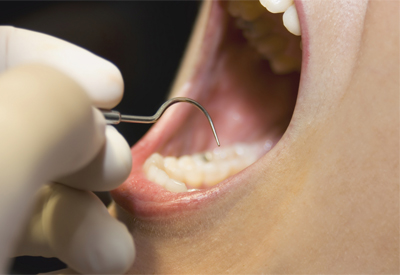 More than half of the population is suffering from the symptoms and gum pain associated with gum disease. Gum disease, once present, is never cured as the bacteria that cause the infection will continue to accumulate and need to be cleared away in a continuous cycle. Gum disease must be treated and then controlled. To maintain the health of their teeth and gums, patients schedule periodontal disease treatment in Stuart, FL with . Periodontal maintenance differs from regular cleanings in the following ways:
Shorter duration in between appointments
Deeper, more comprehensive cleanings
Maintenance of gum tissue and management of bacteria
Regular Periodontal Disease Treatment in Stuart, FL
While regular cleanings are generally performed at six month intervals, periodontal cleanings are scheduled more frequently. The time between visits is based upon each individual patient's condition, considering factors such as the rate at which plaque grows on your teeth, method of treatment, and response to treatment.
Periodontal cleanings are more extensive than regular dental cleanings. Your teeth are cleaned both above and below the gum line to remove bacteria and calculus. Your mouth will be evaluated for changes in bite, gum tissue health, and periodontal pocket depths. It is essential that you inform us of any changes in your health, new medications, and any existing gum pain or symptoms at each visit.
Why Must I Continue Periodontal Maintenance?
The plaque that builds up on the teeth, and harbors bacteria, can harden into calculus. Calculus cannot be removed with a toothbrush and floss. It can only be removed by a dental professional. In addition, the bacteria that cause gum disease must be managed. Once you have been diagnosed and treated for gum disease, it is important to schedule regular appointments to have periodontal maintenance cleanings and allow Dr. DeTure and Dr. Follweiler to monitor any areas that have the potential to relapse. This early detection and treatment protocol can help prevent damage to your teeth and further gum pain.
Periodontal maintenance is a key factor in controlling and managing the bacteria that cause gum disease. Call Dr. DeTure and Dr. Follweiler today in Stuart, FL to schedule your periodontal examination and maintenance appointment.
Maintain Your Periodontal Health
Periodontal maintenance therapy is an ongoing program designed to prevent the progression of periodontal (gum) disease in the gum tissue and bone that supports the teeth. Periodontal maintenance is usually necessary for patients who have been diagnosed with and treated for periodontal disease.
The Stages of Gum Disease
Periodontal Maintenance Keeps Your Gums Healthy and Prevents Long-Term Damage
Schedule Your Periodontal Maintenance Consultation Today!