Correcting a Gummy Smile in Stuart, FL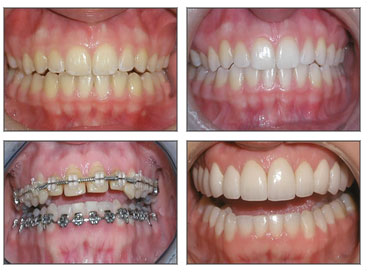 Esthetic crown lengthening can transform a smile from gummy to beautiful with a single procedure. Gum contouring, or periodontal plastic surgery, can enhance your appearance, creating a more ideal shape and size of the gum line. Schedule a visit with to correct your gummy smile in Stuart, FL. Patients with excess gum tissue will benefit from the procedure in the following ways:
Trims away excess tissue to expose more of the tooth
Shapes the gum tissue that frames the tooth and contours the gum line to create uniformity and balance
Helps prevent the development of periodontal disease
Gum contouring can be performed on one or more teeth and is an excellent method of uncovering the beauty of the teeth. Patients who dislike their "short teeth" can have a longer, more attractive smile.
Another purpose of gum contouring is to shape the gum tissue that surrounds your teeth to create a frame that looks natural and compliments the teeth. This technique also addresses the irregularities in the gum line. An uneven gum line can detract from the beauty of your smile.
Gum contouring can help you avoid periodontal disease. Trimming away excess tissue can decrease the depths of the periodontal pockets in which bacteria become trapped.
What Can I Expect From the Procedure?
Gum contouring is performed with local anesthetic. Dr. DeTure and Dr. Follweiler will make incisions in the gum tissue to extract the excess tissue from your teeth. In some cases, bone tissue will be removed as well to design your new smile. At this point, Dr. DeTure and Dr. Follweiler will rinse the treatment area and close with sutures. He may place a bandage over the sutures to ensure that they remain unharmed. A follow up visit will be scheduled with Dr. DeTure or Dr. Follweiler approximately one to two weeks after gum contouring so that he may monitor the healing process.
Esthetic crown lengthening can dramatically alter your smile by exposing more of the enamel portion of the teeth. To schedule your consultation for this gum contouring procedure, call Dr. DeTure and Dr. Follweiler in Stuart, FL today.
Esthetic vs. Functional Crown Lengthening
Esthetic Crown Lengthening
This relatively simple procedure usually takes about an hour to perform and is essentially a "gum lift". During the procedure, the doctor removes excess gum and bone tissue and reshapes the smile to expose more of the natural tooth. While the procedure can be performed on just one tooth, it is most often done to the entire smile. The end result is that more of the natural tooth is exposed creating a wider, more beautiful smile.
Functional Crown Lengthening
Functional crown lengthening is needed in order to perform cosmetic or restorative procedures if a tooth is too far decayed, broken below the gumline, or has insufficient structure for restoration. In cases like this, the doctor will reshape the gums and supporting bone to allow for adequate room to place a high quality restoration.
Periodontal Plastic Surgery Enhances The Appearance And Health Of Your Smile!
Schedule Your Periodontal Plastic Surgery Consultation Today!