Causes of Loose Teeth in Stuart, FL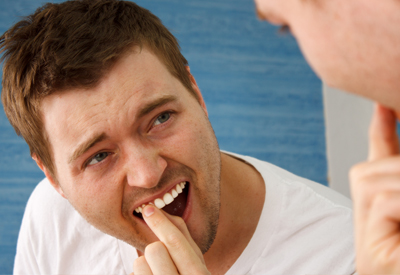 Having loose teeth is not common and should be addressed immediately. While gum disease is the most frequent source of tooth shifting or loss, there are other reasons that you may have loose teeth in Stuart, FL. can help you save your teeth by diagnosing and treating your condition. Leading causes of loose teeth include:
Gum disease
Orthodontic issues
Injury
Gum disease slowly destroys the gum tissue that surrounds your teeth, creating deep pockets that result in greater exposure to bacteria. The infection damages the connective fibers and bone that hold your teeth in place, allowing them to shift and move. If left untreated, your teeth, as well as significant amounts of bone, can be lost. This symptom is characteristic of advanced periodontitis, for which immediate and aggressive treatment is recommended.
When teeth are misaligned, it creates uneven stress upon impact. When the teeth come together, the pressure can cause the bone around the teeth to thin and eventually weaken to the point where the tooth is no longer held in place. Orthodontic treatment would be an excellent preventative measure against further issues. It is important to note that teeth may temporarily be loose while undergoing realignment during orthodontic treatment.
Injuries to the teeth are frequently the result of sports or auto accidents. Teeth may become suddenly loose due to trauma. A trip to the dentist is the best way to ensure that your tooth is saved.
Treatment Options
If your loose teeth are due to gum disease, Dr. DeTure and Dr. Follweiler may recommend deep cleanings or periodontal laser surgery. With advanced gum disease, you may also have experienced significant loss of bone and gum tissue. These conditions may be treated with bone and gum tissue grafts.
Dr. DeTure and Dr. Follweiler view extraction as a last resort but in some cases, there is no other solution. However, once teeth have been extracted, it is imperative that you restore their function to preserve your appearance and health. Dental implants are highly recommended for their authentic look and feel.
If you are experiencing loose teeth or any of the symptoms of gum disease, a visit with Dr. DeTure and Dr. Follweiler is vital to your oral health. Call our office in Stuart, FL today to schedule your consultation.
Gum Disease Can Cause Loose Teeth
Loose teeth can be a sign of gum disease and other oral health problems that may lead to tooth loss and damage of the supporting structure and bone.
If your teeth are loose, schedule an an oral examination right away!
Learn More About Gum Disease View The Progression of Gum Disease
Loose Teeth May Be A Symptom of A Bigger, Underlying Dental Issue
Schedule Your Gum Disease Consultation Today!