Nutritional Supplements for Better Oral Health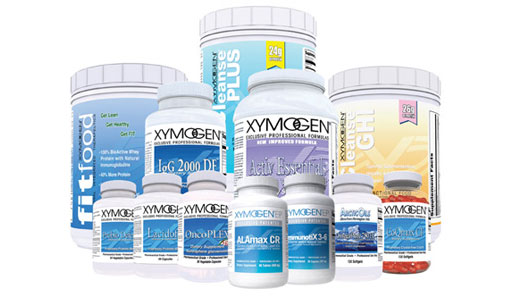 We are a distributor of Xymogen supplements. Xymogen guarantees that every product is 100% compliant with the ingredients on the label. Xymogen has received c-GMP (current – Good Manufacturing Practices) FDA certification. An independent, 3rd party lab tests their supplements for purity (contaminants) as well as contents.XYMOGEN® Exclusive Professional Formulas has over a quarter century of experience in providing quality professional supplements to healthcare practitioners. As an independent health sciences company, XYMOGEN® has introduced numerous innovations to the Functional Medicine community. XYMOGEN® has been recognized by Inc. Magazine as one of the Inc. 5000 fastest-growing private companies in America.
Key advantages to Xymogen products include:
Third Party Assays to guarantee purity and potency
XYMOGEN® formulas are tested by third party laboratories. These assays are made available to licensed healthcare practitioners as an assurance that XYMOGEN® always represents the highest possible quality and potency.
Sourcing the Highest Quality Ingredients
The superior, pharmaceutical grade raw materials utilized in XYMOGEN® formulas differentiate the XYMOGEN® professional formulas from other lower quality brands.
Manufacturing:
All XYMOGEN® formulas meet or exceed c-GMP quality standards.
Clinician-Patient Exclusivity Protection Agreement
To protect the doctor/patient relationship and prevent widespread discounting of products on Internet sites, XYMOGEN® requires a state-issued license before establishing an account, and XYMOGEN® maintains strict control over the improper sale of their products over the Internet.
Easy-to-Swallow Capsules
XYMOGEN® formulas helps the medical professional improve their patients' compliance because they are delivered in easy-to-swallow form. The majority are in vegetable-based, cellulose capsules, which are more costly than hard gelatin capsules. Other formulas are in caplets, powders, softgels and bars.
Approvals & Certifications
XYMOGEN®'s principal manufacturing partner has been audited and quality approved by key industry certifying bodies. These include:
GMP Certificate – Academy of Clinical, Environmental, Research and Information Services (ACERIS)
GMP "A Rating" – Natural Products Association (NPA)
Certification by Australia's Therapeutic Goods Administration (TGA)
Kosher certification (all major authorities)
Independent Third-Party Purity Analysis:
We send formulas to a third party, independent laboratory to be tested not only for purity (contaminants), but also for content.
Easy-to-Swallow Capsules*:
A survey of supplement customers found tablet size to be the most common patient complaint. *Most every XYMOGEN® formula is provided in vegetable-based cellulose capsules, sublingual tablets, powders, softgels and liquids.
Therapeutic Doses:
Our quality formulas contain research-based doses of nutrients. We do not have any "window dressing" or useless, costly ingredients.
The following supplements are an important part of a wellness lifestyle and a healthy immune system, and are available at the Stuart Center for Laser Periodontics and Implants:
Vitamin C
Antioxidant/ anti- inflammatory vitamin that aids in the strengthening of blood vessels, collagen development and
strengthens tissues in the mouth by making them less susceptible to bacteria.
Vitamin B Complex
Prevents the development of glossitis (sore tongue) gingivitis, angular kelosis (sores at the corners of the mouth) and
general oral inflammation.
Calcium
For bone strength and Vitamin D – to aid in the absorption of calcium
CoQ10
Co-Enzyme Q10 is a vital antioxidant which, according to numerous scientific and clinical studies: produces energy in cells, protects tissues – such as the heart and other vital organs from free radical damage, supports proper cardiovascular function, strengthens the immune system and nourishes gum tissue.
Alpha-lipoic acid
An antioxidant that helps remove *free radicals* at the cellular level. ( a free radical is a substance that destroys healthy cells)
Probiotics
Immune system support that enhances digestion and enables the body to fight off bacterial toxins. The widespread use of antibiotics in agriculture and health care has robbed our intestines of the healthy bacteria our body needs to build a strong immune system. Probiotics are microorganisms that positively influence health by improving the intestinal microbial balance.
Pharmaceutical Grade Fish Oil
Promotes cardiovascular health including blood pressure control, reduces inflammation in joints, skin and other organs, support for mental health, reduction of allergic type reactions and helps with blood sugar control.
Activ Essentials Multi-Vitamin and Minerals
Is a combination of 3 targeted nutritional formulas in dose packs supplying comprehensive nutritional support.
Advantages of XYMOGEN
Third Party Assays to Guarantee Purity and Potency
Sourcing the Highest Quality Ingredients
Manufactured Using c-GMP Quality Standards
Easy to Swallow Capsules
Clinician to Patient Exclusivity Protection
Better Overall Health to Promote Better Oral Health
Schedule Your XYMOGEN Consultation Today!