Nutritional Supplements and Periodontal Disease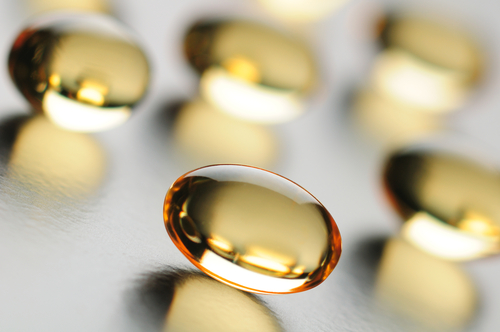 Ideally a proper diet would supply all the healthy vitamins, minerals and other necessary nutrients needed for good oral health. Regretfully most of us often lack the time to prepare and eat nutritious meals.
For those times taking nutritional supplements is a way to maintain overall wellness and prevent periodontal disease and tooth loss.
The following supplements are an important part of a wellness lifestyle and a healthy immune system:
Vitamin C
Antioxidant/ anti- inflammatory vitamin that aids in the strengthening of blood vessels, collagen development and
strengthens tissues in the mouth by making them less susceptible to bacteria.
Vitamin B Complex
Prevents the development of glossitis (sore tongue) gingivitis, angular kelosis (sores at the corners of the mouth) and general oral inflammation.
Calcium
For bone strength and Vitamin D – to aid in the absorption of calcium
CoQ10
Co-Enzyme Q10 is a vital antioxidant which, according to numerous scientific and clinical studies: produces energy in cells, protects tissues – such as the heart and other vital organs from free radical damage, supports proper cardiovascular function, strengthens the immune system and nourishes gum tissue.
Alpha-lipoic acid
An antioxidant that helps remove *free radicals* at the cellular level. ( a free radical is a substance that destroys healthy cells)
Probiotics
Immune system support that enhances digestion and enables the body to fight off bacterial toxins. The widespread use of antibiotics in agriculture and health care has robbed our intestines of the healthy bacteria our body needs to build a strong immune system. Probiotics are microorganisms that positively influence health by improving the intestinal microbial balance.
Pharmaceutical Grade Fish Oil
Promotes cardiovascular health including blood pressure control, reduces inflammation in joints, skin and other organs, support for mental health, reduction of allergic type reactions and helps with blood sugar control.
Activ Essentials Multi-Vitamin and Minerals
Is a combination of 3 targeted nutritional formulas in dose packs supplying comprehensive nutritional support.
While there are no definitive studies that show good nutrition will prevent periodontal disease research highlights that a healthy immune system will aid the bodies fight against inflammation and infection which are the main causes of periodontal disease. Solid nutrition also helps stop the progression of periodontal disease and tooth loss as well as other systemic diseases.
The Stuart Center for Laser Periodontics and Implants and XYMOGEN Laboratories
The Stuart Center for Laser Periodontics and Implants after extended research, is pleased to have chosen XYMOGEN Laboratories as our select source of nutritional supplements. XYMOGEN Laboratories uses only the finest ingredients in their formulations and all of their products are tested by a third party laboratory for purity and effectiveness.
Click Here For Information About XYMOGEN Supplements
Are You Getting Enough?
The following supplements are an important part of a wellness lifestyle and a healthy immune system:
Vitamin C
Vitamin B Complex
Calcium
CoQ10
Alpha-lipoic Acid
Probiotics
Pharmaceutical Grade Fish Oil
Proper Nutrition is Vital to Good Oral and Overall Health!
Schedule Your Nutritional Supplements Consultation Today!