Oral Cancer Screening in Stuart, FL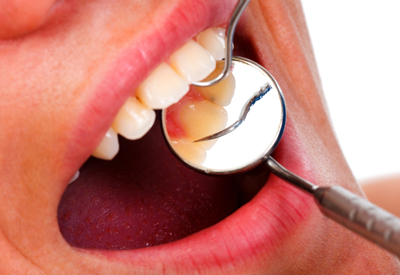 Do you ever wonder what the dentist is doing at your routine checkup when he is looking down your throat and moving your tongue from side to side? Many people ask why all this looking around is necessary when all they wanted was an examination of their teeth. Dr. DeTure, Dr. Follweiler or other dental health care provider may be saving your life with this type of examination and here's why.
This year alone, more than 30,000 Americans will be diagnosed with oral cancer and 8,000 will die of the disease. More common than leukemia, skin melanoma, Hodgkin's disease, and cancers of the brain liver, bone, thyroid gland, stomach, ovaries, and cervix, oral cancer is a major cause of death and disfigurement in the United States, according to the National Cancer Institute.
Smoking and the use of tobacco products attributes to 75% of all oral cavity cancers that include cancer of the mouth, tongue, lips, throat, parts of the nose and larynx. Studies have also linked chronic alcohol use to oral cancer. According to the CDC oral cancer occurs twice as often in men than women. Age is also a factor; 95% of oral cancer occurs in persons over the age of 40, with 60 being the average age of diagnosis. Early detection is the key in fighting oral cancer and 90% of cases can be treated in the earliest stages.
Because people who do not use tobacco products or abuse alcohol also get oral cancers, dentists are very aware that a dental check-up involves more than examining teeth.
When a patient is in the dental chair, Dr. DeTure and Dr. Follweiler may do the following to thoroughly examine the mouth:
Look at the face and neck to check for swelling, unusual lumps, bumps or moles as well as press along the sides of the neck and cheek for tenderness or swelling.
Pull the lower lip down and look for color changes, sores or lumps. This will be repeated on the upper lip.
Examine the cheeks for red, white or dark patches.
Tilt the head back and examine the roof of the mouth to look for any lumps or changes in the color of the skin. Press the tongue down and look at the back of the throat.
Pull the tongue forward and move it side to side to check for any swelling, lumps or changes in color of the skin.
Some type of x-ray may be included in this exam if Dr. DeTure or Dr. Follweiler thinks it is warranted.
So, at your next dental check-up be aware that your dentist is giving you "State of the art" dental care when he examines your entire mouth and asks questions about changes that may have occurred.
Most patients are the best observers of their own bodies.
Tell Dr. DeTure, Dr. Follweiler or your dentist anything that seems unusual to you.
Be your own advocate and be on the lookout for the following:
Sores that do not heal
Lumps on the lift or in the mouth or throat
White patches on the gums, tongue or lining of the mouth
Unusual bleeding, pain or numbness in the mouth
Sore throats that do not go away or feeling that something is caught in the throat
Difficulty or pain with chewing or swallowing
What Happens During An Exam?
During an oral cancer exam, you doctor will:
Exam of the tongue and insides of your mouth to check for red or white patches or sores
Feel the tissues of the mouth to check for lumps or other abnormalities
Order further testing on abnormalities that are found
Oral Cancer is Extremely Dangerous and Must be Diagnosed Early
Schedule Your Oral Cancer Screening Today!