Restoring Bone Health with a Bone Graft in Stuart, FL
Bone loss occurs in patients who have lost teeth or suffered from advanced periodontal disease. Loss of bone can alter your jaw structure, making it difficult to wear dentures or have dental implants placed. Patients who have lost a significant amount of bone density can often restore their health with a bone graft in Stuart, FL. offers the three types of available bone grafts:
Autogenous
Allograft
Xenograft
The Three Types of Bone Grafts in Stuart, FL
• The autogenous graft is performed using bone from the patient's chin that is transferred to the treatment area. The donor material will run less risk of rejection as it is from the patient's own body.
• Allograft materials are not collected from the patient but instead are obtained from a bone bank. This method does not require a second surgical site.
• Xenografts come from neither the patient nor a bone bank. In this case, the bone is collected from a bovine source.
Who Needs a Bone Graft?
Grafts replace the bone density in your jaw after it has deteriorated due to tooth loss or gum disease. Bone augmentation is critical to your appearance as well as the placement of dental implants in Stuart, FL. Implants need a sufficient amount of bone in place to successfully integrate, creating the solid foundation characteristic of dental implants. However, not every patient who has suffered from gum disease or tooth loss will require a bone graft. Dr. DeTure and Dr. Follweiler can determine the health of your bone during an evaluation.
What Can I Expect from the Bone Graft Procedure?
Performed with local anesthetic, the procedure begins with incisions to the treatment area to assess the amount of bone needed. The donor area, usually the chin, is then accessed through the inside of the mouth. Once the bone is collected, the gum tissue is sutured closed. Dr. DeTure and Dr. Follweiler applies the tissue to the treatment area, securing it with titanium screws. Additional bone graft material or a marrow mixture may be placed at the site to facilitate the healing process which can take up to nine months. Grafts must be fully healed before scheduling a procedure to place dental implants in Stuart, FL.
If bone loss has occurred as a result of tooth loss or periodontal disease, a bone graft may be necessary prior to the placement of dental implants. To schedule your comprehensive evaluation for dental implants, call Dr. DeTure and Dr. Follweiler in Stuart, FL today.
Restore Your Facial Appearance Now!
It is common to experience bone loss around the teeth as a result of progressive disease, infection or trauma. However, bone loss can limit our ability to restore your smile using methods like dental implants or implant supported dentures.
We offer bone augmentation and bone grafting procedures to replace lost bone. Bone grafting can also restore the proper facial contours where bone is missing in the font of the mouth.
Learn More About Bone Loss
Bone Loss Occurs Immediately After Tooth Loss
Bone loss in the jaw bone is common when one or more teeth have been lost due to injury, decay, or trauma. Without the tooth in place to stimulate the jaw bone, the bone around the missing tooth will begin to deteriorate.
The Stages of Bone Loss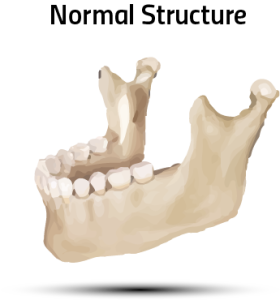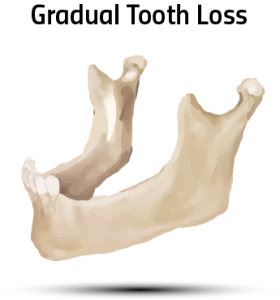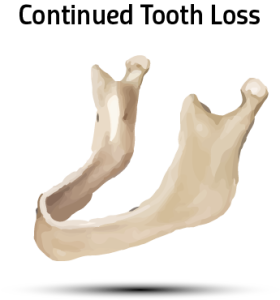 Correcting Bone Loss With Bone Grafting Procedures!
Schedule Your Bone Grafting Consultation Today!