AlloDerm® Gum Grafting
AlloDerm® Regenerative Tissue Matrix is often used in dental grafts to cover exposed tooth roots, for gingival augmentation, soft tissue ridge augmentation, and soft tissue augmentation around dental implants. AlloDerm® is the most published acellular dermal matrix (ADM) in implant dentistry and has been shown to significantly reduce post-operative complications.
AlloDerm® is derived from donated human skin tissue. Human skin is composed of both epidermis and dermis. AlloDerm® uses only the dermis, which is acellular and does not contain DNA. The dermis is used for grafts because it contains a framework of biochemical and structural components that allow it to regenerate and replace itself throughout life. This makes the dermis ideal for tissue grafting.
Tissue donors are screened and tested for transmissible diseases including HIV, hepatitis, and syphilis before tissue is processed. Before AlloDerm® is deemed fit for human use, additional tests are performed to assure patient safety. AlloDerm® has been used in more than 750,000 implants and grafts without a single report of disease transmission.
Using AlloDerm® is like using a patient's own tissue except that it spares the patient a second surgical site where the tissue would have been taken. AlloDerm® allows doctors the ability to treat multiple areas of recession in one procedure, thus avoiding the cost and pain of multiple surgeries.
No Secondary Grafting Site
With Alloderm, the epidermis, or top layer of cells, and the cells in the dermis are removed from the donor tissue as part of the purification process. All that remains is a collagen framework that provides strength to the skin.
Alloderm contains no cells that can cause rejection or inflammation. Once the Alloderm graft or implant material is in place, it gradually becomes a part of your body.
Alloderm Smile Gallery
Alloderm is a dermal graft/implant material made from donated skin and processed by the LifeCell Corporation.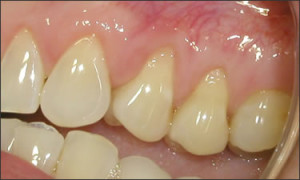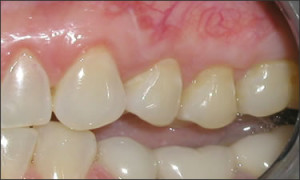 The Less Invasive Gum Grafting Method
Schedule Your Alloderm Gum Grafting Consultation Today!