Laser Treatment for Gum Disease in Stuart, FL
Gum disease is the leading cause of tooth loss in adults, yet for millions it goes untreated. This may be attributed in part to a desire to avoid the discomfort and downtime of dental surgery. There is, however, an alternative. Periodontists offer the Laser Assisted New Attachment Procedure (LANAP®) for the treatment of gum disease in Stuart, FL for a variety of reasons:
• LANAP® can be a more appealing method of treatment to patients.
• Laser treatment by a periodontist affords long term health benefits.
• LANAP® is safe and effective.
The LANAP® Treatment for Gum Disease in Stuart, FL
If left untreated, gum disease progresses from initial symptoms, such as bleeding gums or bad breath, to the more devastating loss of teeth and bone. Unfortunately, periodontitis will not resolve itself. To avoid irreversible damage to your oral and overall health, you must seek professional treatment. Treatments from our periodontists, Dr. DeTure and Dr. Follweiler, may include antibiotic therapy or deep cleanings for the early stages of gum disease. For more moderate to severe cases of periodontitis, Dr. DeTure and Dr. Follweiler recommend LANAP® due to the benefits of health, comfort, and convenience that it affords patients. Performed without scalpels, laser treatment creates less anxiety for patients with a fear of dentistry. It also results in minimal pain and faster healing times.
The laser utilized in the procedure is the PerioLase® MVP-7™. While the laser can destroy bacteria and vaporize diseased tissue, it may also be used to encourage the regeneration of the bone that helps to support your teeth. This added benefit can allow our periodontists to often save otherwise hopeless teeth.
Lasers have been incorporated in dental procedures for decades. LANAP®, specifically, has been cleared by the FDA. LANAP® is safe and effective in the treatment of moderate to advanced gum disease.
Dr. DeTure and Dr. Follweiler are experienced periodontists in Stuart, FL who has been trained and certified in the use of this procedure. To determine if LANAP® is the best treatment option for you, call us today to schedule your consultation.
Want to Learn More About LANAP?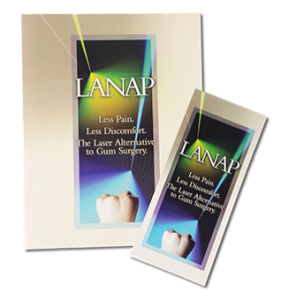 Curious to learn more about this revolutionary, state-of-the-art procedure? Click below to download the LANAP Education Pack.
Download the LANAP Laser Pack Now!
Watch the LANAP Laser Procedure Video
Gum Disease and Your Health
Gum disease has been linked to a variety of health complications including heart disease and low birth-weight babies. Until now the majority of the treatment options available were invasive and painful. LANAP is minimally invasive and does not require the cutting or stitching of the gums!
Learn More About Gum Disease
Less Pain. Less Discomfort. The Laser Alternative to Traditional Gum Surgery.
Schedule Your LANAP Procedure Consultation Today!