Mouth Sores… Ouch!!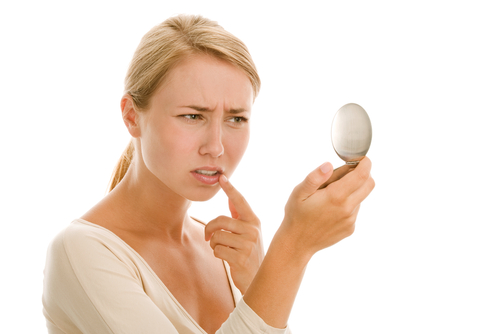 Mouth sores can be really painful and annoying as well as not very attractive. They are usually caused by bacterial or viral infections that compromise the immune system. They also can be caused by irritation or the result of medical treatment such as chemotherapy. Mouth sores can be a symptom of a disease or disorder so all mouth sores that are present for over a week should be examined by a dentist.
Among the most common mouth sores are aphthous ulcers or canker sores. These are small ulcers with a white or gray base and a red border. Canker sores appear inside the mouth and form on the lips, cheeks, underside of the tongue, soft palate or tonsil area. They are not contagious. There may be one or several present and they often return. The cause is unknown but some scientists believe they are the result of a bacterial or viral infection that affects the immune system.
Canker sores are also often the result of biting the cheek or tongue, food or beverages that are too hot, stress, allergies to certain toothpastes or mouth rinses or inadequate nutrition. Hormone fluctuations and genetics may also play a part in the development of canker sores. Canker sores can also be more prevalent in people who have intestinal problems such as ulcerative colitis or Crohn's disease. HIV/AIDS may also cause canker sores.
The hallmarks of canker sores are their appearance, location and the fact that they are recurrent. Usually the patient has no fever and no symptoms of malaise.
Canker sores usually heal after 4-14 days. Avoiding hot, spicy or acidic foods helps when they are present. Over the counter topical anesthetics offer some relief and if the ulcers become extremely painful or secondarily infected an antibiotic may be necessary.
Another type of mouth sore is a cold sore sometimes called a fever blister or herpes. These painful fluid filled blisters often erupt around the lips, nose or chin. Cold sores caused by herpes simplex virus are very contagious and once a person is infected the virus may cause occasional outbreaks. If the outbreak is severe a person may feel generally ill. An attack may follow a skin abrasion, illness, sunburn, stress, hormonal changes or compromised immune function. They may also appear on other parts of your body. They usually clear up in 7-14 days.
There are several over the counter products that shorten the duration and discomfort of a cold sore. Some natural remedies range from applying ice during the "tingling stage" to moistened tea bags. There are also herbal supplements said to strengthen the immune system against future outbreaks.
These are two common mouth sores but there are others that may indicate a more complicated problem. When in doubt as to the nature of your mouth sore see Dr. DeTure and Dr. Follweiler – gum specialists.
What Causes Canker Sores?
Among the most common mouth sores are aphthous ulcers or canker sores. They are not contagious. Common causes include:
Bacterial or viral infection
Biting of the cheek or tongue
Food or beverages that are too hot
Stress
Allergies to certain toothpastes or mouth rises
Inadequate nutrition
Hormone fluctuations
Mouth Sores Should Be Examined By A Doctor
Schedule Your Canker Sore Consultation Today!