The Stages Of Gum Disease in Stuart, FL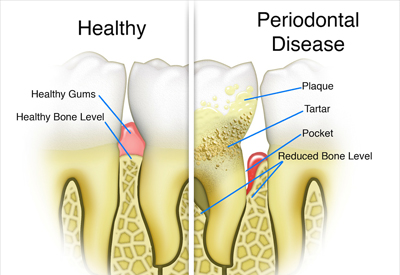 Gum disease can be devastating to your teeth, gums, and bone. In the earliest stage, or gingivitis, the damage is easily reversed. However, this is not the case as the infection advances. This is why it is important to schedule regular appointments with to maintain the health of your teeth and gums. Dr. DeTure and Dr. Follweiler can diagnose and treat gum disease in Stuart, FL before further irreparable damage occurs. The three stages of gum disease are:
Gingivitis
Periodontitis
Advanced periodontitis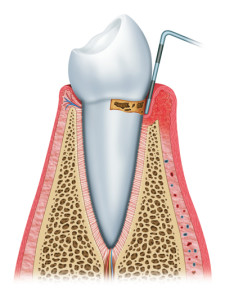 Stage 1: Gingivitis
Gingivitis is the onset of gum disease. If the plaque that builds up on your tooth surface is not cleared away with proper brushing and flossing, bacteria will become trapped within the plaque. The bacteria grow and irritate your gum tissue, resulting in red, swollen gums that bleed when you brush and floss. Treatment of gingivitis, before the infection progresses to its next stage, is the best course of action.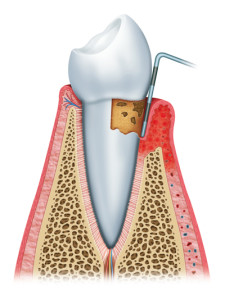 Stage 2: Periodontitis
Periodontitis is the second stage of gum disease. It is characterized by the damage of the connective fibers and bone that surrounds your teeth, holding them in place. Your gum tissue will pull away from the teeth and begin to recede, lowering your gum line. As the gums detach from the tooth surface, they form deep pockets, creating a place for more bacteria to accumulate. In addition, the toxins produced by the bacteria may also emit an odor, resulting in bad breath.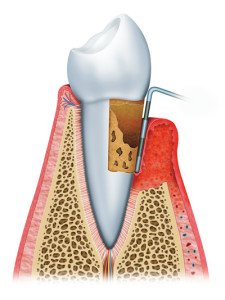 Stage 3: Advanced Periodontitis
Advanced periodontitis is the final stage of gum disease. At this point, your connective fibers, bone, and gum tissue will be devastated by the infection. Consequently, your teeth will eventually loosen without their support. Your gums, which are meant to provide a barrier to infection, will erode, leaving your tooth surface exposed to disease and decay. Immediate treatment is necessary to save your teeth and bone.
Gum disease can have significant negative consequences on your oral and overall health. Call Dr. DeTure and Dr. Follweiler in Stuart, FL today to begin your treatment for gum disease.
The Three Stages of Gum Disease
It has been estimated that 75% of Americans have some form of gum disease which can be linked to serious health complications and causes dental problems that are avoidable.
The 3 Stages of Gum Disease Are:
Gingivitis: Reversible With Minor Dental Procedures
Periodontitis: Immediate Treatment Necessary to Prevent Further Damage
Advanced Periodontitis: Aggressive Treatment Needed to Save the Teeth
Early Detection and Treatment Can Help Save Your Teeth Without Invasive Treatments
Schedule Your Gum Disease Consultation Today!